Ithuh ka ECI ïa ka VPP kum ka State Party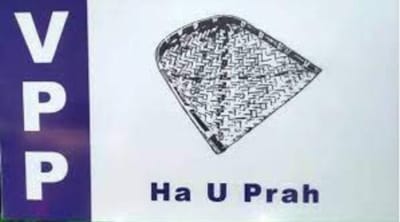 Shillong, Iaiong 10 : Ka Election Commission of India (ECI), mynta ka sngi, ka la ai jingithuh ïa ka Seng Voice of The People Party (VPP kum ka State Party.
Katkumn ka shithi ba la phah da u Secretary ka ECI sha u President ka VPP, u Bah Ardent Miller Basaïawmoit, la ong ba ECI ka la ithuh ïa ka VPP kum ka State Party namar ka jinglehbha jong ka ha kane ka elekshon MLA baladep. Lah ban kdew hangne ka VPP ka la jop 4 ngut ki MLA ha kane ka elekshon bad ka la leh bha ruh ha Mylliem, Mawphlang, Umsning, Pynthorumkhrah, South Shillong, East Shillong bad kiwei kiwei de ki jaka, nalor ba ka la jop na Nongkrem, Mawryngkneng, East Shillong bad Mawlai.
Ha kane ka shithi ka ECI ka la bthah ïa ka Party ban jied noh ïa u Symbol napdeng ki free symbol ba la buh da ka ECI. Hynrei ki kyrtong ka VPP ha kane ka elekshon ka la pyndonam da u Prah kum u Symbol, uiba long ruh u Symbol ba ka Party ka la tyrwa sha ka ECI ha ka por ba ka register kum ka Party.