Rah ka Mulang Ialong ïa ka namlahduh jong ka Independence Day Cub Under-17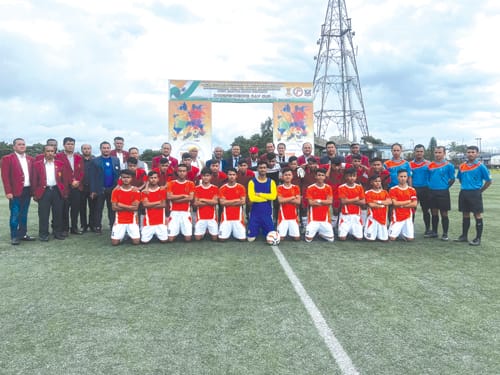 Jowai, Naitung 16: Ka kynhun ïalehkai jong ka Mulong Ialong kala long syndon ka lahduh ha ka lympung ïalehkai phutbol Independence Day Cub Under-17 Football Tournament 2023 bala pynkhreh da ka ophis u Deputy Commissioner bad ka District Sports Office hapoh ka jingpynïaid ka West Jaiñtia District Sports Association (WJDSA) kaba la long ha kane ka 15 tarik u Nailar ha madan Kiang Nangbah Stadium, Dongmihsngi Jowai.
Ha kane ka jingïakhun phainal ka Mulang Ialong kala lah ban pynliem da 3-2 kol ïa ka Dulong, haba phai sha ka jingïakhuh jong ka kylla step na ka liang ka Mulang Ialong kala ïoh shwa ban pynkhih ïa ka jar kaba nyngkong lyngba u Samith Pale haka minit ba 5. Hynrei na ka liang ka Dulong kala ïoh ban pynphai kylla ïa katei ka shi kol lyngba u Kynsaikupar Bareh haka minit ba 24, hadien tang katto katne minit ka Dulong kaba ïoh biang ban thep sa ka kol kaba ar lyngba u Yoobhalang Langstang haka minit ba 26.
Katba ka jingïakhun ka dang ïaid shakhmat ka Mulang Ialong kala ïoh ban thep ïa ka kol ba ar lyngba u Charelang Mulieh haka minit ba 35.
Katba ha ka jingïakhun jong ka kylla miet ka Mulang Ialong kala ïoh ban pyntam ïa ka shikol lyngba u Nidaroi Mulieh haka minit ba 64, haduh kaba kut jong ka jingïakhun ka Mulang Ialong kala jop da 3-2 kol.
Ïa ki khusnam sha ki nongjop la sam da u kongsan uba dei ruh u MLA ka Jowai ma Wailadmiki Shylla ha ka jingdonlang u DC bah B.S. Sohliya, u DSO ma K. Passah bad ki nongkikam ka WJDSA, ïa ka nam Man Of the Match la ïoh da u Nidaroi Mulieh ka Mulang Ialong, Best Goal Keeper la ïoh da u Seibor Rymbai ka Mulang Ialong, Top Scorer la ïoh da u Riphi o Shylla ka 7wasa FC uba la thep haduh 6 kol. Katba ïa ka nam Player of the Tournament la ïoh da u Nidaroi Mulieh ka Mulang Ialong.