Jop ka Umshangiar SC da 2 ron ha ka Open to All Cricket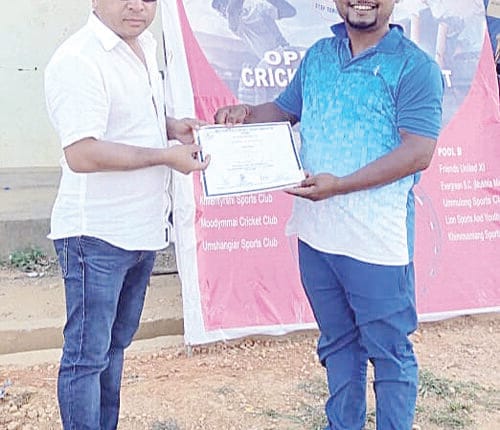 Jowai, Ïaïong 19 : Ka jingïalehkai jong ka Open to All Cricket Tournament 2023 bala pynïaid da ka West Jaiñtia Hills District Cricket Association Jowai kaba la pynlong mynta ka sngi bad na ka liang ka Umshangiar SC kala lah ban pynliem ïa ka Khliehtyrshi SC da 2 runs
Haba phai sha ka jingïakhun ïa ka jingkynting pisa la jop da ka Umshangiar Sports Club ha kaba ka la jied ban tied (Bat) nyngkong, ha kaba kala lah ban kamai 160 runs na ki 28.3 overs bad kala hap lut baroh ki wickets. Kiba ïoh ban kamai kham bun ki kynthup ïa u Heiyoo Ryngkhlem 40 runs 29 balls, u Dathrang Pariat 38 runs 43 balls bad u Kunemiki Lato 16 runs 14 balls, ha kaba na ka liang ka Khliehtyrshi SC kiba la ïoh wickets ki kynthup ïa u H. Timi Ryngkhlem 4 wickets na ki 7 overs bad u Peter Nongtdu 2 wickets na ki 7 overs.
Ha ka kylla miet ka Khliehtyrshi SC haba bud ïa ka thong ba la buh da ka Umshangiar, ka la ïoh ban kamai tang 158 runs na ki 34.3 overs bad duh noh baroh ki wickets, kiba kham lah ban kamai bun ki kynthup ïa u Markatjuh Dkhar 31 runs 33 balls u V. Sangahiwot Rymbai 30 runs 50 balls katba na ka liang ka Umshangiar kiba ball bha ki dei u Kunemi Lato 3 wickets 7 overs, u Sate Bareh 2 wickets 5.3 overs bad u Heipormi Laloo 2 wickets 7 overs.
Ïa ka nam Man of the Match la ïoh rah da u Kunemiki Lato jong ka Umshangiar Sports Club.