Da ka khusnam Param Vishist Seval Medal ïoh pdiang u Air Marshall SP Dharkarair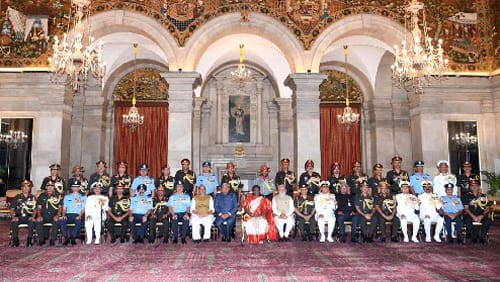 Shillong, Jylliew, 27: U Air Officer Commanding-in-Chief, Eastern Air Command Air Marshal SP Dharkar, AVSM u la ïoh ïa ka khusnam "Param Vishisht Seva Medal" (PVSM) ba la ai sha u da ka President jong ka ri India. La ai kane ka khusnam ïa u da ka President jong ka ri India, ka Droupadi Murmu ha ka Defence Investiture Ceremony ba la pynlong ha Rashtrapati Bhavan ha ka 27 tarik u Jylliew 2023. Ka khusnam PVSM ka dei kaba ju ai ïa ka jingai jingshakri kaba kyrpang.
U Air Marshal SP Dharkar u dei u nongpynher liengsuin ba la tbit bha bad uba la pynher ïa ki liengsuin haduh 3600 kynta haduh mynta. U dei uba la pule teng ha ka Rashtriya Indian Military College Dehradun, National Defence Academy Pune, Defence Services Staff College, Wellington and Air War College, USA. U la rung ha ka kam ha u bnai Jylliew 1985, u dei u nongai jinghikai ban pynher liengsuin, u Fighter Strike Leader bad u Instrument Rating Instructor & Examiner bad u la ju long teng ruh u Air Force Examiner.
Ha ka kam ba u la trei haduh mynta, u la pynïaid ïa ka front line fighter squadron bad kawei ka jaka ai jinghikai ïa ki nongpynher liengsuin. U dei uba la tbit ha ka jingpynlong ïa ki jingai jinghikai ha ki kam ïada ri na ka bynta ki ophisar ha ka Defence Services Staff College bad ha ka College of Air Warfare, Secunderabad. U la ju long teng u Assistant Chief of Air Staff (Training) ha Air Headquarters bad Air Defence Commander ha Headquarters Eastern Air Command. U dei u Director General uba nyngkong jong ka Defence Space Agency. U la shimti kum u Air Officer Commanding-in-Chief of Headquarters Eastern Air Command, Shillong ha ka 1 tarik u Risaw 2022.